2017 Festival Report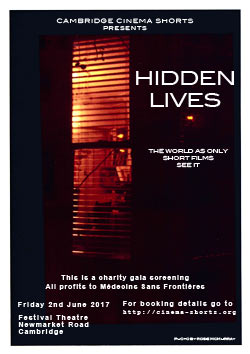 Another sparkling evening in our favourite venue, The Festival Theatre. The program was an outstanding success with our audience, combining as it did, new films with others from our archives.
Thanks to the generosity of our audience, a reduced hire fee from the Cambridge Buddhist Centre, (the present custodians of the theatre), the good will of the film makers and much hard work from our team of volunteers we managed to raise three hundred pounds for Medecins Sans Frontieres.
Many thanks to all those concerned.
-
Cambridge Strawberry Shorts 2017 Photo Gallery
Check out the Cambridge Strawberry Shorts Film Festival 2017 photo gallery.
click to enlarge
photographer Rosie McMurry.
-
Thanks
Cambridge Cinema Shorts would like to thank the Cambridge Film Trust and The Cambridge Buddhist Centre for their support.