The Strawberry Shorts Film Festival 2013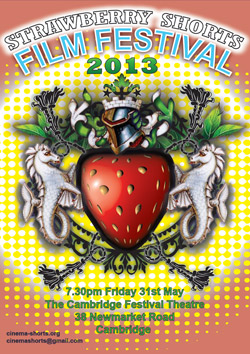 Cambridge Cinema Shorts, in partnership with Strawberry Fair, are delighted to announce that we will be holding The Strawberry Shorts Film Festival on the evening of Friday 31st May. The Film Festival has the honour of acting as the opening event for Strawberry Fair 2013, which takes place on Saturday 1st June.
Once again The Strawberry Shorts Film Festival will run in the beautiful environs of The Cambridge Festival Theatre; 38 Newmarket Road.
This year we have one category, Best Overall Festival Winner. There are two awards in this category, The Audience Award and The Jury Award – with the winners being announced at the end of the evening.
The festival will be held on Friday 31st May and entry will be on a first come, first served basis (see below for ticket reservation). All audience members will receive voting slips on arrival so they can vote for The Audience Awards.
Strawberry Shorts is a well established and respected short film festival and an important event in the Cambridge calendar. It enjoys national support and has international recognition. Each year we try to add a little extra, keeping it fresh and alive, and encouraging continued interest with year round supporting events.
Ticket Reservation
Tickets for The Strawberry Shorts Film Festival can be reserved by emailing cinemashorts@gmail.com.
Before you make a reservation email, please read the following.
Tickets cost £6 each.
Please use the subject reservation for your email.
A maximum of four tickets can be reserved by one person.
A named individual must be given for each reserved ticket.
On the evening of The Strawberry Shorts Film Festival, the Cambridge Festival Theatre doors open at 18:45. Tickets can be picked up and paid for from our ticket desk in the theatre lobby after the doors open.
If reserved tickets have not been picked up and paid for by 19:10, they will be returned to public sale.
When you make a reservation email, we will mail back a confirmation of the reservation. Please be patient, The Strawberry Shorts Film Festival is a volunteer run festival and it may take a little time for your reservation to be processed.
Feel free to mail any questions about ticket reservation to cinemashorts@gmail.com with subject reservation.