NOTE: FULL FESTIVAL REPORT TO FOLLOW SHORTLY
-
2014 Awards
The winner of the 2014 Audience Award was Record.
The winner of the 2014 Jury Award was Tabatô.
-
Judges Commendations
Jack Toye commended the film Hunting for Hockney.
Jack Toye said . . .
'I thought bang for buck, for a three and a half minute film, there was something charming, philosophical, moving . . . and I kind'a want to go to Yorkshire and do a bit of stalking of David Hockney . . . knowing my luck it would all end terribly. I thought it was really nice.'
Sarah McIntosh commended two films, Cólera and Born to be Mild.
Sarah McIntosh said about Cólera . . .
'For a six minute film there is a very tight narrative, the lighting was amazing, the production values were outstanding and the way the music changed when it can to the change in the protagonist that we were following.'
Sarah McIntosh said about Born to be Mild . . . 'It was extremely well constructed, it had a wonderful sense of humour to it but in a very kind way. I watch a lot of documentaries as part of doing submissions [for the Cambridge Film Festival] and it very hard when you have talking head documentaries to keep it interesting. I thought it was a very dynamic piece and they were able to have the guys talking, they were interesting but there were also some great cut away shots to other things as well.
Tom Woodcock commended Record.
Tom Woodcock said . . .
'I loved all three of those films [above] as well. Its usually one of those thing watching short film, very much about taste isn't it and its quite difficult to pull something out. I usually look for something thats a bit different, something that challenges me and usually something that does something quite simple often with what its got. Working with short films is often a challenge because you've not got a great amount of money to work with. I thought I was going for a film that was a personal film for me, but everybody here chose it as well. Its easy for me, I went for Record, because the characters developed slowly and gave me time to enjoy them, but in a very short amount of time and that quite odd in a short film. I got to know an awful lot about four people in a very short amount of time and it used all of the things a short film does very effectively. So for me that was something I thought was great!
-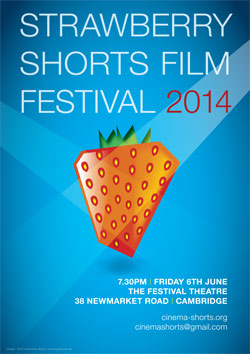 Cambridge Cinema Shorts, in partnership with Strawberry Fair, are delighted to announce that we will be holding The Strawberry Shorts Film Festival on the evening of Friday 6th June. The Film Festival has the honour of acting as the opening event for Strawberry Fair 2014, (its 40th anniversary), which takes place on Saturday 7thst June.
Strawberry Shorts is a well established and respected short film festival and an important event in the Cambridge calender. It enjoys national support and has international recognition. Each year we try to add a little extra, keeping it fresh and alive, and encouraging continued interest with year round supporting events.
There are two awards, The Audience Award and The Jury Award – with the winners being announced at the end of the evening.
Audience entry will be on a first come, first served basis. All audience members will receive voting slips on arrival so they can vote for The Audience Awards.
Doors open at 19:00 and the festival commences at 20:00. The full running order is given below.
While you wait for this years festival, why not check out these reports on previous editions:
-
The Jury
In no particular order, the 2014 jury consisted of:
We are pleased to welcome Sarah McIntosh. Sarah one of two new judges works for the Cambridge Film Festival…Read More…

Jack Toye is marketing manager at the Arts Picture House. Jack, we suspect, lives at the cinema as he always seems to be there…Read More…

Once again we have Tom Woodcock. This is Tom's third year on the panel so what can we say that has not been said before?…Read More…
-
Running Order
The Strawberry Shorts Film Festival takes place on the evening of Friday 6 June in The Cambridge Festival Theatre located at 38 Newmarket Road, Cambridge, CB5 8DT.
The Doors opened at 19:00.
The screening is split into two programmes.
The first programme starts at 20:00
There is an intermission followed by the second programme at 21:45.
The awards were announced after 23:00.
-
Commendations
Please find below a list of entries to the 2014 Strawberry Shorts Film Festival that receive a commendation from the 2014 viewing panel.
NOTE: These films are not also rans, they have not come in as second best, it is simply that we, because of time restraints and programme balance are not able to screen them at the festival.
They are chosen for many reasons, great cinematography, brilliant production, sharp editing, talented actors but also, just because we liked them, often, for no other reason than that they were, in general, a very good and enjoyable film.
The Strawberry Shorts Film Festival 2014 Commendation List.
-
Thanks
Cambridge Cinema Shorts would like to thank the Cambridge Film Trust and The Cambridge Buddhist Centre for their support.