Cambridge Cinema Shorts presents a Pop Up Cinema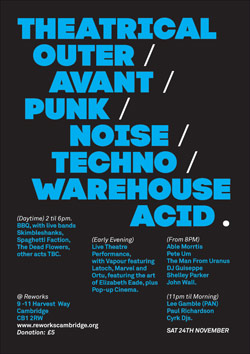 The Reworks Studio in Harvest Way (between Newmarket Rd and New St, Cambridge) is closing
Sadly a victim to the developers, this engine of creativity is is being bulldozed next week so a farewell event is organised for Saturday the 24th of November 2012.
For our part we are running a POP UP CINEMA, starting at 2.00pm with a children's programme.
Later we will be running a multi faceted event through to the early hours with programme from our own extensive back catalogue of international, award winning short films with a dedicated slots for local film makers, some of whom are also award winning, and some of whom will be in attendance and up for question and answer sessions.
OPPORTUNITY KNOCKS . . . Our programme is flexible so if you have something you would like to show get in touch, or, just show up on the day.
Other events promised …… live music, cabaret, bbq, and loads of party stuff.
And its FREE! So no excuse……. See you Saturday.
Contact Cambridge Cinema Shorts: cinemashorts@gmail.com
Reworks location:
9-11 Harvest Way Cambridge CB1 2RW