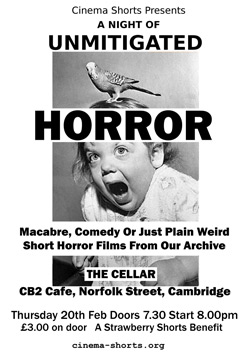 We have a new venue!
A nice snug cellar, loads of atmosphere, a great café upstairs, and right in the middle of town. Perfect! And to celebrate we are running a regular, monthly programme of events screening a juicy collection of themed nights. All films sourced from our huge back catalogue.
First off is a night of horror. Just right for a cellar don't you think?
So please, come along to CB2 Norfolk Street, Cambridge on Thursday 20th February. Doors open at 7.30 and we start screening at 8.00pm, or turn up earlier and treat yourself, the CB2 café offers a great range of meals snacks and drinks.
£3.00 on the door with all proceeds going to the Strawberry Shorts Film Festival