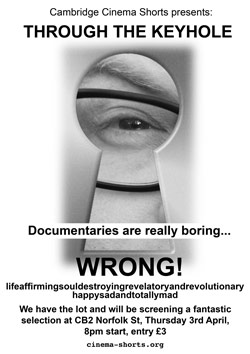 Cambridge Cinema Shorts Presents
 DOCUMENTARIES ARE REALLY BORING!
 WRONG WRONG WRONG WRONG WRONG!
 Documentaries constitute some of the best short films in our archive.
 Got an issue to air? Make a short documentary. Got a passion to share? Make a short documentary. Just want to stand and stare? Do it holding a camera. The result? Its a documentary.
 We have documentaries from all over the planet, keyholes into other lives, other minds, other worlds. And some of them will rock yours. That's a promise.
 Come and share our passion
 THROUGH THE KEYHOLE
 Thursday 3rd April 2014  The Basement
 CB2, Norfolk Street, Cambridge
         Doors open 7.30pm    Screening starts at 8.00    £3.00 on door
 Bar Café and Restaurant Open Why not make an evening of it?