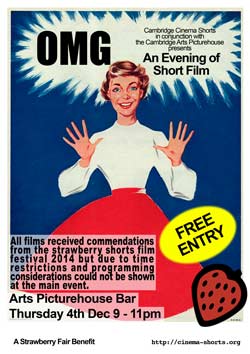 Cambridge Cinema Shorts are proud to announce that the following films have received a commendation from The Strawberry Shorts Film Festival 2014 viewing panel.
With filmmaker permission, these films will be screened at the Cambridge Arts Picturehouse later this year.
Please follow this link for more details of commendation screenings.
All those commended are to receive individual notification.
NOTE: These films are not also rans, they have not come in as second best, it is simply that we, because of time restraints and programme balance are not able to screen them at the festival.
They are chosen for many reasons, great cinematography, brilliant production, sharp editing, talented actors but also, just because we liked them, often, for no other reason than that they were, in general, a very good and enjoyable film.