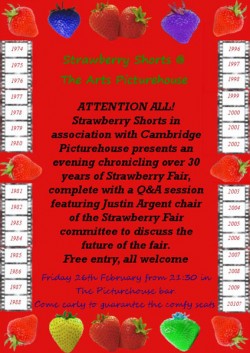 On the evening of Friday the 26th of February 2010, we screened eight short films about the much loved one day free festival Strawberry Fair. The first film from 1977, the last from 2007, a gap of almost 30 years between them.
Seven of the eight fantastic films we screened, are available to watch online below. Dont miss Strawberry Fayre from 1977 to find out how to defend yourself from a giant inflatable martian monster, how much praise costs and what a Can Can Girls wears under their skirts!
The programme was preceded with a Potted History of Strawberry Fair with Fair stalwart John Clements. He knows more than you ever want to know about Strawberry Fair and he shares it below, including the surprising origin of the fair.
-
A Potted History of Strawberry Fair
by John Clements
John Clements talks about the origin of Strawberry Fair. According to John, it was a good time, it was an innocent time and flairs were flairs and hair was long.
-
Strawberry Shorts Photo Gallery
click to enlarge
-
The Films of Strawberry Fair
People have been making films about Strawberry Fair since there has been a Strawberry Fair, over 30 years and most of those films are lost. These are the films we have been able to rescue, the first from 1977, the last from 2007, a span of 30 years.
Below are the shadows of an ineffably beautiful Cambridge day in June, first caught on film then later video, now reborn in our digital age. Long live Strawberry Fair!
-
Strawberry Farye
The past is a foreign country . . . welcome to Cambridge in 1977. Giant inflatble martian monsters attack, high kicking Can Can girls whoop it up and the crowd chills to some far out tune. All this and some wicked VHS drop out.
Filmmaker: Cambridge May Day Group
runtime: 33:43
-
Strawberry Fair 1991
A throbbing, pulsating, psychedelic journey through the Strawberry Fair of 1991.
Filmmaker: Simon Smith
runtime: 12:00
-
Strawberry Fair – At The End of the Last Millennium
A flash back to Strawberry Fair 1999, featuring various scenes from the dance stage and three interviews with Strawberry Fair committee members.
Filmmaker: Gayle Harney
runtime: 7:36
-
Blink and You'll Miss Its
A head-long, non-stop, break-neck race through the Strawberry Fair of 2000 by one man and his Super 8 camera. Be careful not to blink, because blink and you'll miss it!
Filmmaker: Tony Clarke
runtime: 3:07
-
Strawberry Fair 2002
The Strawberry Fair parade of 2002 organised by Daisy Lee, shot on Kodachrome Super 8.
The Strawberry Fair parade marks the start of every Strawberry Fair. Setting off at 11am, its well worth getting to the fair a little early to be a part of it!
Filmmaker: Simon Mullen
runtime: 5:40
-
Holy Fire
Pete UM local Cambridge musician, performer and artist, takes a stroll through the late night Strawberry Fair of 2004. And along the way he meets the Lost Kids.
Filmmaker: Pete UM
runtime: 3:25
-
The Society of Xtras
Don't be a bit part player in your life. Except the invitation of Strawberry Fair and become an Xtra.
Shot as part of The Society of Xtras community art performance in the Arts Area of Strawberry Fair in 2007.
Filmmaker: Helen Judge
runtime: 1:43
-
Thanks
Cambridge Cinema Shorts would like to thank Tony Jones and the Cambridge Arts Picturehouse for hosting this event.
Cambridge Cinema Shorts would also like to thank Chris Herbert of The Anglia Ruskin University, for his technical assistance.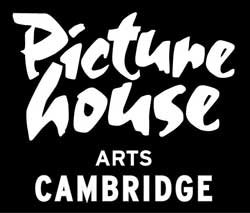 -