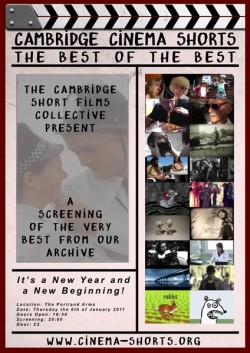 Cambridge Cinema Shorts presented from its archive a small selection of The Best of the Best on the evening of Thursday the 6th of January at The Portland Arms.
At The Best of the Best the audience watch Cyberbeat to find out why rubber protection is so important after the prom, The Advantage of the Hitman to find out . . . well . . . what the advantage of a hitman is and The Gynaecologist to witness the terrible vengeance of a gynaecologist scorned!
The Outré Usherettes were on hand helping and hindering the audience to their seats. Check out the the full running order that they enjoyed below.
An awesomely entertaining night was had by all at The Portland Arms. Don't miss out on the next Cambridge Cinema Shorts event! Click the facebook Like button in the right hand column and keep upto date on Cambridge Cinema Shorts shenanigans.
-