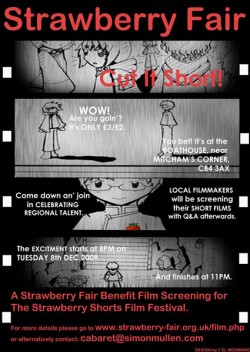 Cut It Short! was an superb short film benefit night for The Strawberry Shorts Film Festival 2010.
NOTE: the Strawberry Shorts Film Festival 2010 was cancelled because Strawberry Fair was cancelled that year.
Cut It Short! ran on Tuesday the 8th of December 2009 at The Boathouse and was packed with a selection of short films from the last few years of Best New Local Filmmaker competition of Strawberry Shorts Film Festival. It was also packed with the filmmakers whose films we screened.
Throughout the night we had Q&A sessions with the filmmakers in between the screening. They give a real practical insight into the filmmaking process. Check out the Q&A below
-
Q&A with Helen Judge director of Xtras & Detachable Penis
In this fascinating Q&A, Helen Judge discusses some of the artist obsessions and compulsions that lead her to make Xtras and the whimsical and charming Detachable Penis. View this strictly work safe video to find out were Ken keeps his penis!
Helen Judge is a well established artist hailing from New Zealand, now based at Wysing Arts near Cambridge. Check out her The Society of Xtras for more information.
-
Q&A with Simon Panrucker & Andrzej Sosnowski the directors of Internal Affairs & Christian Lapidge the writer
In this Q&A Project Trident stalwarts Simon Panrucker, Andrzej Sosnowski and Christian Lapidge explain why they really wanted to film one man coming out of another mans stomach. Also Christian Lapidge refuses to expain how to go about filming a man getting his arm cut off.
We recommend that you watch the awesomely funny and tiny bit gruesome Internal Affairs before viewing the Q&A below.
-
Q&A with Cathy Dunbar co-director with Kay Goodridge of Not In My Back Yard
What wouldnt you do in your back yard? Cathy Dunbar, one half of the team behind Not In My Back Yard talks about her backyard, the rampaging cows of Midsummer Common and Strawberry Fair.
-
Q&A with Antony Kwok & Nikkie Walsh the directors of Dan 02/11/08
Were do Antony Kwok & Nikkie Walsh keep their friends head? Check out Dan 02/11/08 and then the Q&A below for some handy head storage solutions.
Antony Kwok & Nikkie Walsh have just launched their new website, Paper Twin Productions. The Strawberry Shorts Film Festival will be checking back on this website for more exciting short film projects from Antony & Nikkie in the future.
-
Q&A with Helen Johnson the director of Factotum
Your parents tell you that you should always eat your greens. But in the plasticine gothic World of Factotum, you might be advised to avoid eating any greens at all. In fact, even sniffing your greens could be detrimental to your health!
Helen Johnson shares the trials and tribulations of shooting the ambitous plastice stop-frame animation Factotum. And she reveals that the set of this disturbing animation was itself disturbed many times during the filming.
-
Poet, filmmaker and 209 Radio regular Patrick Widdess talks about how Parking Space draws the veil from the mundane World to reveal the drama beneath.
-
What do Marc's house hold objects do when Marc is away? Are his plants still alive? Has he damaged his kitchen lately? All this and more is answers below.
Also we find out if a member of the audience is wearing a hat and if Marc ever sits on a pig!
-
James Hoedemaker discusses his time-lapse based film Ode to a Dirty Smoker, which addresses the well-known sordid, awful and filthy habit.
Find out how James accomplished the Herculean task of filming in the Anglia Ruskin Library. (CLUE: it was a typical guerilla filmmaker approach.)
-
Q&A with Tessa Morgan director of Tashtastic
Tessa Morgan (the mustache girl) on how she started making films and why you should grow a mustache today!
Its very probable that Tessa Morgan knows more about mustaches than any women alive and she wants to share that knowledge with you!
-
Ryd Cook answers questions on his sensitive sibling drama Away.
View Ryd's Q&A below to discover how he reduced the cost of the film from £6 to £3.
-
Thanks
Cambridge Cinema Shorts would also like to thank Chris Herbert of The Anglia Ruskin University.
Cambridge Cinema Shorts would also like to thank Acoustic Stage for their help in organising Cut It Short!