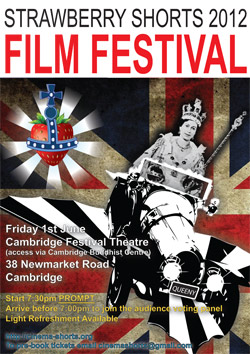 The Cambridge Strawberry Shorts Film Festival lived up to every expectation.
A fantastic evening spent viewing superb short films in the best of venues. The audience were enthusiastic, the jury, entertaining and engaging, and the staff/crew/helpers, all volunteers, were as good as you get, working the door, selling programmes, stewarding and running the café. Thanks to each and every one.
All this made possible with the kind co-operation of the Cambridge Buddhist Centre in who's charge the Festival Theatre now resides.
Of course non of this would have happened if were not for the film makers who submitted over 250 films. And to those we need to say the biggest thank you. We only managed to show 18 of those films and we are not saying that we showed the best 18. Of course they were good but the best? Such a subjective issue and one that we answer this way.
Once short-listed we took a sample that covered as many representative genera as our programme would allow, documentary, drama, comedy, animation. We also tended towards the shorter films to allow more into the programme, (Note: Our jury, in their opening address, said that when judging short films brevity was a quality they looked for).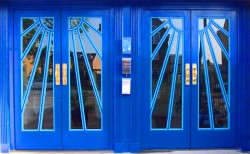 The winners were announced on the night after 20 minutes of frantic counting of the audience voting sheets and heated wrangling between the judges. The winners were Pussyfoot, (best local film audience award, best overall film audience award, best local film jury award) produced and directed by John Davis and Secrecy, (best overall film jury award) directed by Ann Evelin Lawford, and produced by Reeta Variant.
Special mentions went to Chicks on the Highway, produced and directed by Helen Unt, Twin Girls of Sunset Street, produced and directed by Marc Riba & Anna Solanas, and Decopoda Shock, directed by Javier Chillon and produced by Javier Chillon and Luis Fuentes.
And finally, a huge thank you to all those films that featured in our programme, for in a way you were all winners, obtaining what every film requires. An audience!
-
Strawberry Shorts 2012 Photo Gallery
Click through the photo gallery below to get the paparazzi's view of the Strawberry Shorts Film Festival 2012.
click to enlarge
-
The Jury
In no particular order, the 2012 jury consisted of:
This year we welcome back Clare Leczycki to the Judges chair.Read More…

Helen Judge was born in New Zealand and now lives and works in Cambridge. She has been a practising visual artist for the past twelve years..Read More…

Tom Woodcock, very much a local man, has been closely involved in the Cambridge film scene for many years.Read More…
-
Running Order
Strawberry Shorts took place on the evening of Friday 1 June in The Cambridge Festival Theatre located at 38 Newmarket Road, Cambridge, CB5 8DT.
The Doors opened at 18:30.
The screening was split into two programmes.
The first programme started at 19:30
There was an intermission followed by the second programme at 21:30.
The awards were announced at 23:00.
-
-
Previous Awards Winners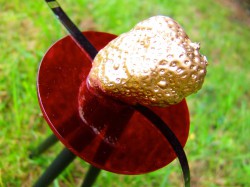 The Strawberry Shorts Film Festival has a focus on local Cambridgeshire home-grown talent with our Best Local Film Competitive Programme.
We make both an Audience and a Jury award, with the victors receiving a coveted La fraise d'Or.
Although we showcase the work of local filmmakers we very much welcome films from outside our region, bringing the best, the greatest and the latest short films from all over the World to a large, friendly and receptive local audience.
-
Thanks
Cambridge Cinema Shorts would like to thank the Cambridge Arts Picturehouse and Cambridge Film Trust and The Cambridge Buddhist Centre for their support.