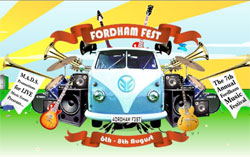 The Cambridge Cinema Shorts Collective was delighted to run the Strawberry Shorts Film Marquee at Fordham Fest 2010.
Over the 6th, 7th and 8th of August 2010, we screened the very best and latest short films from all over the world.
One hundred and seventy five short films packed into twelve, two hour long programmes. Four documentry programmes, two animation programmes, two foreign language programmes, two comedy & drama programmes and two very late night programmes of the beautiful & the weird (warning: not for the faint hearted).
These films will make you in turn, laugh, cry and shudder with horror. Films like The End, Hranice(Borders) and Where's Mary.
If your in Cambridgeshire at the beginning of August and you love short film, then you've got to get on down to the three day short film binge in Strawberry Shorts Film Marquee @ Fordham Fest on the 6th, 7th and 8th of August.
Check out the running order below.
-
Filmmaker Q&A's
Over the weekend of Fordham Fest, we invited a selection of filmmakers to introduce their films in the Strawberry Shorts Film Marquee. We followed the screening up with a public Q&A session.
The public took part in Q&A's with talented professional short film makers and got the low down on how these awesome films were made.
The Q&A's include:
-
Running Order