Cheyenne Conway
Statement 2010
I was a Production Manager alongside Stella Corradi on the production of Fly Away.
Recently I have produced music videos and managed pop videos including Aggro Santos' most recent promo 'Saint or Sinner'.
I have also managed a number of short films that include the anti knife and gun crime campaign 'Value Life' and the comedy 'Blind Man's Bluff'.
Stella Corradi
Statement 2010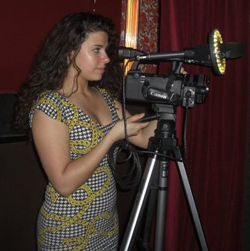 Stella made her filmmaking debut as co-production manager on Fly Away.
She has since gone onto a variety of other projects, including a documentary on Steel Band music within inner city education.
Stella is currently working in the pre-production phase of a feature length by Teilo Vellacott, which will hopefully be in production by the end of this year.
Stella also works as the visual director for Cherry Fair Records and manages the music video department.
Strawberry Shorts Note: The film Fly Away was introduced by Cheyenne Conway and Stella Corradi in Programme 9 and the screening was followed by a Q&A.