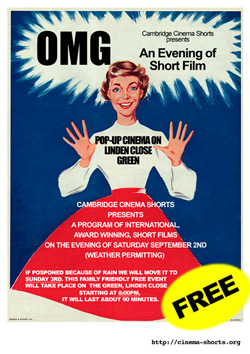 CAMBRIDGE CINEMA SHORTS PRESENTS A PROGRAM OF INTERNATIONAL, AWARD WINNING, SHORT FILMS ON THE EVENING OF
SATURDAY SEPTEMBER 2nd (WEATHER PERMITTING)
IF POSTPONED BECAUSE OF RAIN WE WILL MOVE IT TO SUNDAY 3rd
THIS FAMILY FRIENDLY FREE EVENT WILL TAKE PLACE ON
THE GREEN, LINDEN CLOSE, STARTING AT 8:00PM, AND WILL LAST ABOUT 90 MINUTES.
WRAP UP WARM, BRING SOMETHING TO SIT ON AND PERHAPS SOME POPCORN AND A DRINK.
CAMBRIDGE CINEMA SHORTS IS A LOCAL, VOLUNTEER RUN ORGANISATION DEDICATED TO THE PROMOTION, SCREENING, EDUCATION AND PRODUCTION OF SHORT FILMS.