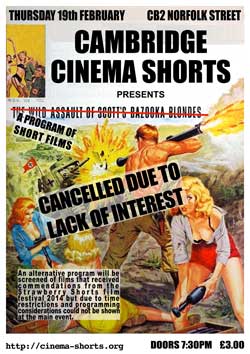 Guilt gnawed at our soul. Every year Strawberry Shorts received literally hundreds of entries for the film festival and every year we showed around twenty! We did our best at other times to shine the spotlight on some of the others by presenting themed screenings, or the best of the rest etc, but in general we were rather distressed that so much talent and effort rarely saw the light of day again.
Its not as if they were bad films, in fact some were a source of everlasting joy, sparkling gems, works of near genius, as worthy of screening as any shown at the festival, but perhaps a film would be a little too long to fit into a two hour programme where quantity is a consideration, or we already had enough of a particular genera, or even that we couldn't quite see how they would fit in with the rest of the festival. So they went back into the box where they waited, like Cinderella, to maybe, be re-discovered some time in the future.
However, we have come up with a plan to give these films the recognition we feel they deserve by awarding them a Strawberry Shorts Commendation. A list is published in the festival programme and to complement this further we hold carefully considered and well publicised screenings, throughout the year of all those that appear on the list.
These events start in early autumn and continue with well publicised and attended events through to the following spring. Many of these screening are held in the cellar of the CB2 cafe in Cambridge, a deliciously atmospheric and suitable venue.
Check back here for date, time and location of additional commendation screenings in the months to come.
PREVIOUS COMMENDATION SCREENING ARE GIVEN BELOW

FIFTH COMMENDATION SCREENING:

FOURTH COMMENDATION SCREENING:

THIRD COMMENDATION SCREENING:

SECOND COMMENDATION SCREENING:

FIRST COMMENDATION SCREENINGS: